Today, I am going to share the experience of attending my first WordCamp. It was my first time in the U.S.A (and the time to Miami obviously). I stayed in the U.S.A for 20 days, traveled to four states, met a lot of great people, and visited a lot of awesome places. 10 days in Florida includes NASA, Universal, Lakes, Springs, Parks, Miami, and a special visit to KeyWest. Kudos to Asif, my buddy who drove me to all the places. I highly appreciate his support for everything he did for me during my trip.
Attending a WordCamp was a dream and when your dream comes true, you feel splendid. I received a comment on FaceBook checking that I am lucky to be there and yes I was lucky to attend this WordCamp.
Following is the wrap-up day by day:
28th May –  WordCamp Miami Social Meetup
Asif drove the car fast, it took us almost 4 hours to reach Miami from DeBary, Florida. We checked-in our hotel and went straight to Miami Ad School for Social Meet up. When we reached there, all talks were ended. I started recognizing the people from their Twitter avatars. You can't imagine my feelings at that time. The people I follow, read their blogs, watch their videos, and use their plugins were ahead of me.
The first twitter friend I met was Jesse Petersen. We shared some words about my jet lag. Nice guy, I liked his treehouse courses and had the honor to take a picture with him.
End of the social meet up was a football game where all the gems were enjoying the game.
Met with Syed balkhi, a handsome, tall guy and for the first time got relaxed to speak Urdu i.e my native language.
David who organized the WordCamp Miami was glad to see me attending the WordCamp so far from Asia. I have organized the technology Events in Pakistan and understand how hard these are, and You did an EXCELLENT job, my friend. **applause**
Another tall one was Devin walker, the man behind Give donations plugin. Devin and Matt Cromwell are really nice guys. We had a nice time spent with them for the rest of the WordCamp days.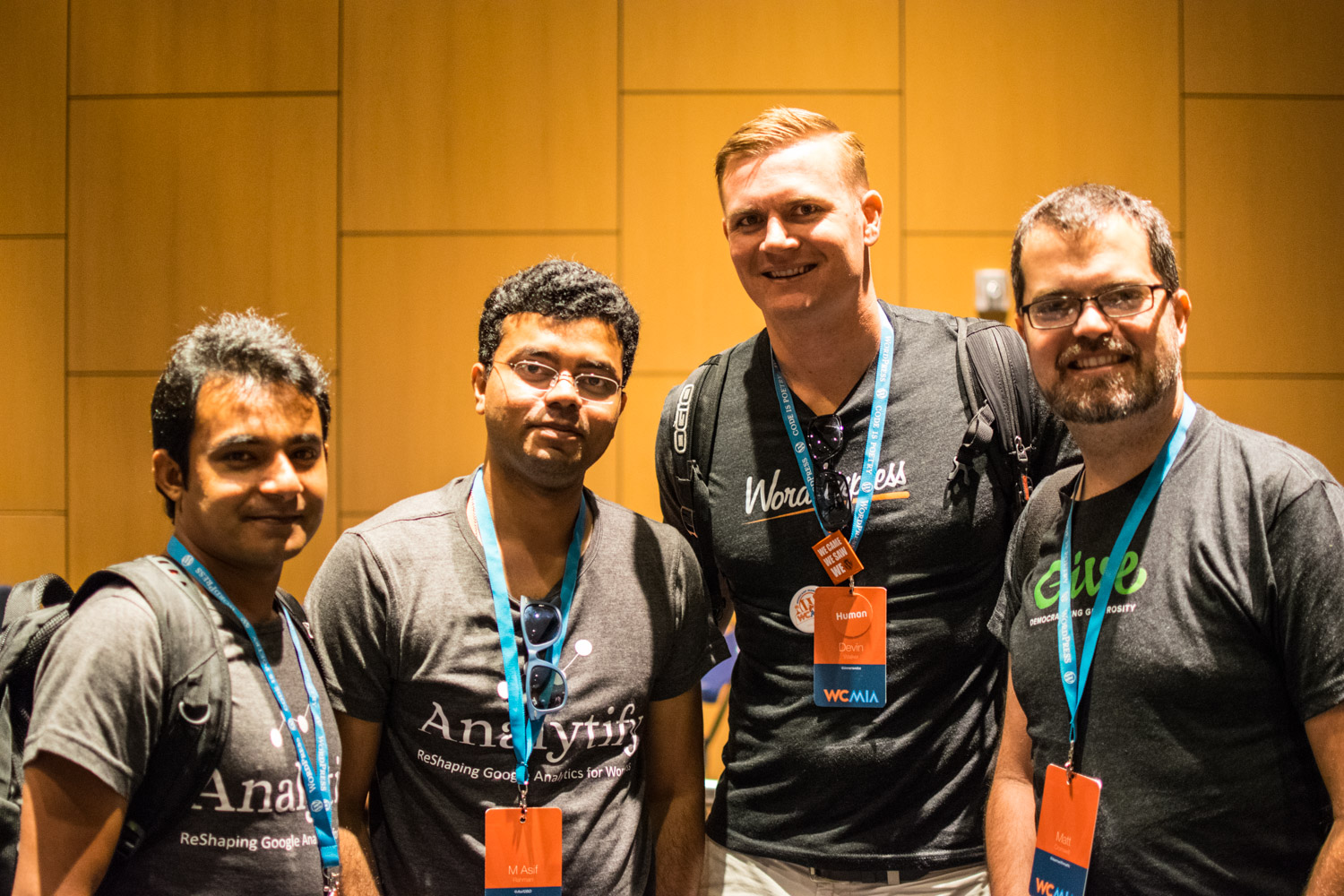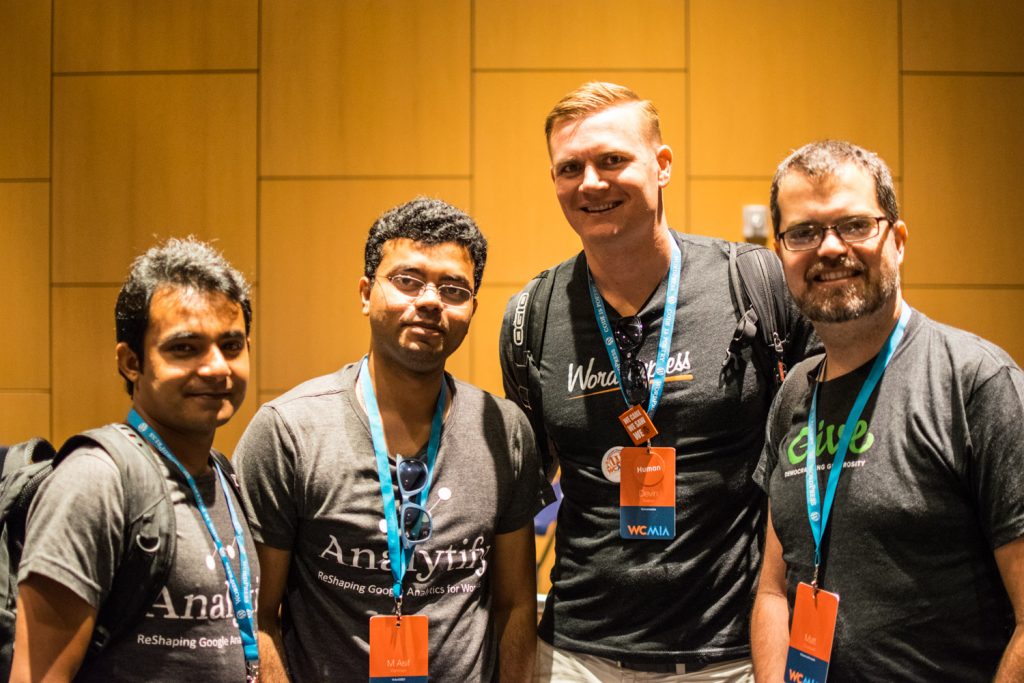 Mendel gathered us and took this awesome photo. Here is a complete wrap up by him.
We had lunch together, exchange ideas about their products, and found Fabio for Portuguese translation for Analytify 😉
Coming back from a Social meet-up, I spend time with WPValet guys at our hotel near the pool.
Following are some of the pics I took from the Social Meet up venue.
29th May, BuddyCamp Miami
I attended all the talks at BuddyCamp. Even though I had to submit a GSoC (2009) proposal in BuddyPress I was not aware of what are the things we can do TODAY within BuddyPress. Big thanks to John James Jacoby, Rami, and others who gave detailed talks and I fell in love with BuddyPress. I will choose BuddyPress for creating private networks for my next project 😉
30th and 31st May, WordCamp Miami
There were How-to, Business, Developer, and All Users tracks. I liked the Developers track for 30th and the Business track for 31st Day. But the best thing was Live Streaming and I could watch all the videos of other tracks later on.
The REAL Beauty of WordCamp is you meet Corey miller, Chris Lema, Syed Balkhi, Karim Marucchi, Aaron Campbell, Chris Wiegman, Mark Jaquith, and other great WordPressers speaking in person. You learn the secrets of their success and apply them to your business for unbelievable growth. You talk about your product with them and get ideas to shape your product. We got tremendous feedback about Analytify. It was awesome to spend time with them. 
For the people in the U.S, They might spend $100, $500, or $1000 to attend WordCamp but for me, It was $4k. After all, It is worthy.
If you couldn't attend WordCamp Miami, don't worry, There are slides and videos available and you can watch it online for free. Videos are being uploaded on WordPress.tv as well.
oh, I forgot to mention Jason Coleman, his talk "Building Web Apps with WordPress" was one of the best talks. He had his book for the giveaway to the person who asked him a good question. I am building Web Apps since years but had not used WordPress as a framework, So I had a lot of questions which I couldn't ask and he gave the book to someone else. I asked him if he has another book then I want it. It would add value to my knowledge and he gently mailed me a book later on. It is a must-read, by the way,  I will write a review of his book soon.
After WordCamp, I regret why I didn't contributed to WordPress Core before even though I was serving large freelance clients with Custom WordPress themes since 2.2 version. I have contributed to phpMyAdmin (Relational Export Schema in multiple formats) a lot in 2010 but I stopped it afterwards and focused on making money for family. Well, there is never late and I am altogether in now 😉
Some of the pictures I took with my friends.
All WordCamp Miami 2015 Swag I got. I was listening to talks and couldn't catch some of the t-shirts people got. Well, my focus was on listening to my favorite people in person.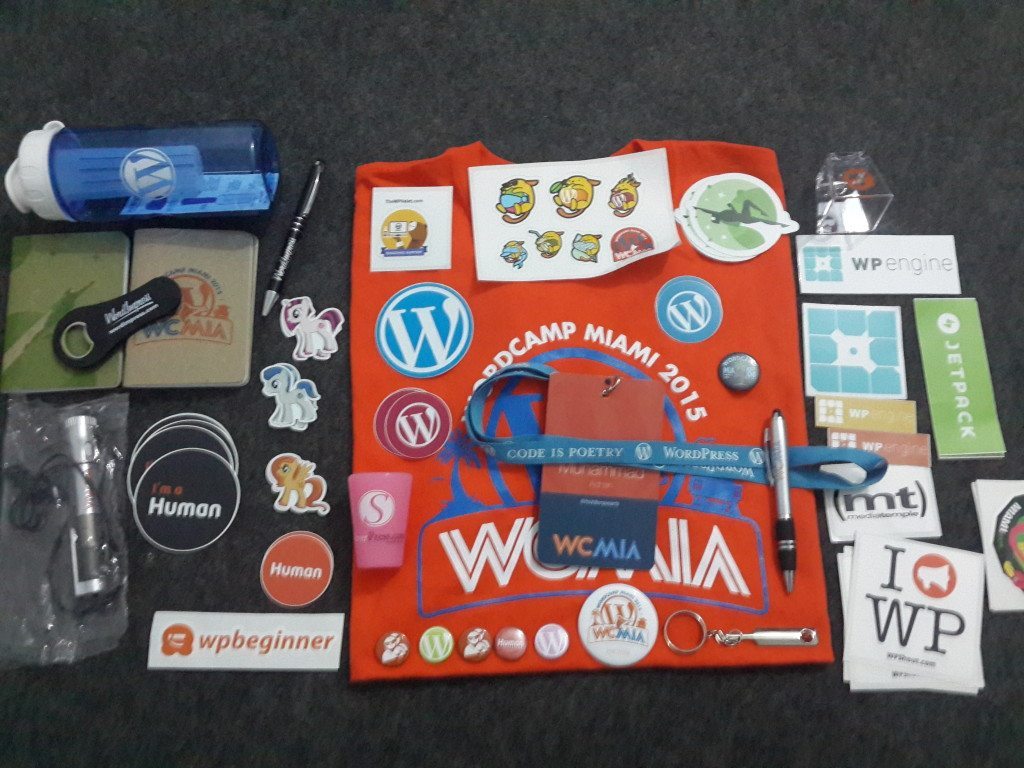 Big thanks to SiteGround who sent me a special gift for attending WordCamp from Asia.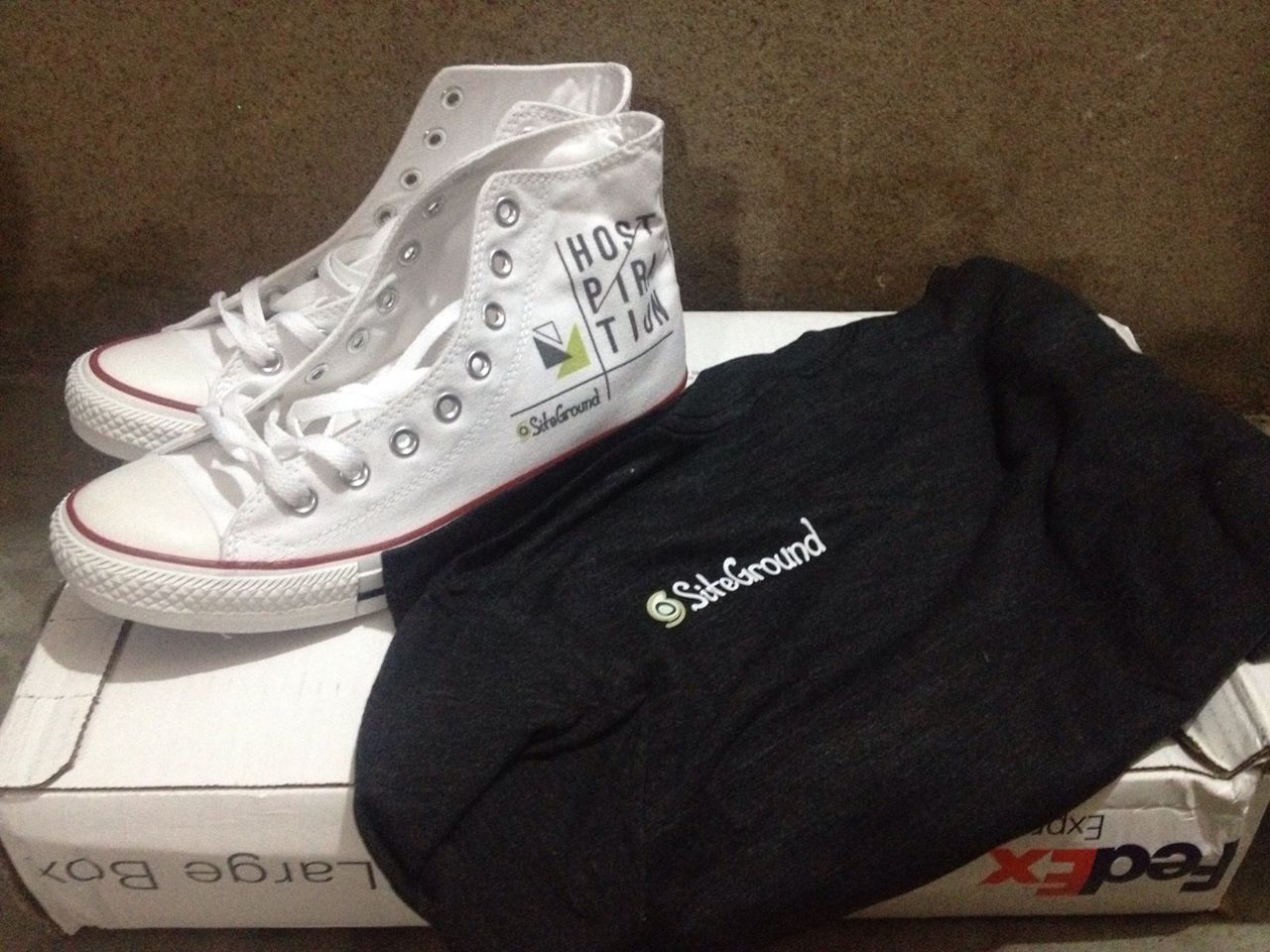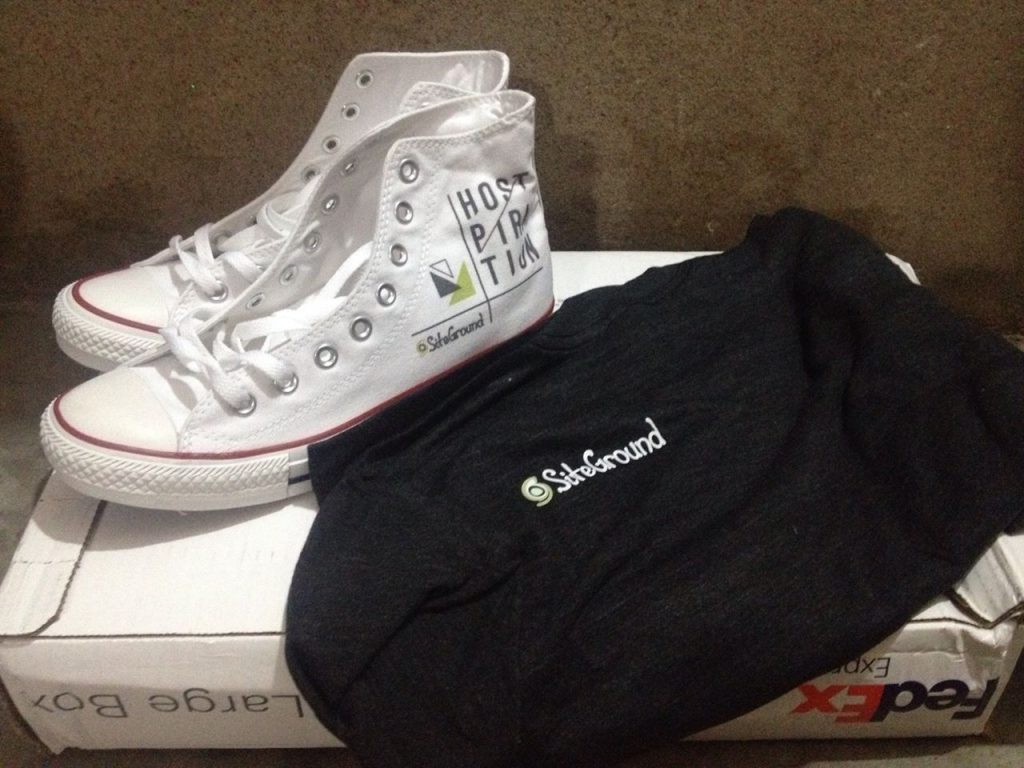 After WordCamp, I took a flight back from Miami to JFK, JFK to Dubai, and Dubai to Sialkot, Pakistan. It took me 40 hours to reach home. Yes, you read it right 40 hours on the plane. But, It was worthy, I loved it and would do it again. hehe
It took me some time to write this long post because I am busy in launching the WooCommerce and Easy Digital Downloads  Addons (Google Analytics Enhanced Ecommerce) for Analytify.
You can follow Twitter updates of the WordCamp Miami #wcmia hashtag on Twitter.