Black Friday Sale - Get

40%

Off on all LoginPress Pro Plans - Use Coupon Code
I'm a big believer of Content Is King. Whenever I started a new blog the very first thing or goal is to write great contents, focus on the headings, and display images that capture readers attention. Though these are BIG factors in search ranking, sometimes we make small little mistakes that could destroy everything that we have built so far. For example, linking to a website that later on become a 404 page or turn into a bad site i.e pornographic. If you barely know about this, it's not too late to fix it. In this article, I will show you some great ways to analyze all existence external links inside your WordPress posts.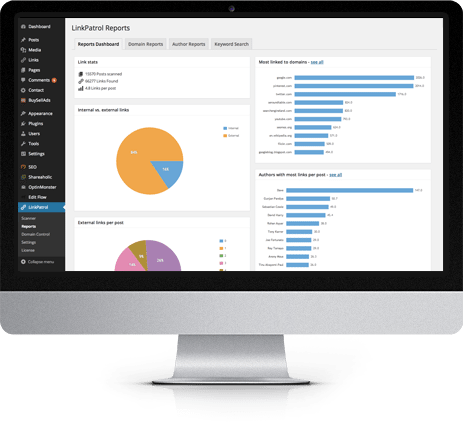 Analyze & Find Spam Links in WordPress
WordPress itself doesn't give you any statistic or chart that show how many links you have added into your blog posts. In order to find that out you will have to manually go through each of them. This is the ideal solution for those that recently got their own blog or haven't publish much. What happen if I have like 200 published articles? If I was you I wouldn't even bother to go through any of them. So the solution here would be using LinkPatrol, a premium WordPress plugin by Search Engine Journal that could help you detect outbound links and fix them.
This plugin can become extremely helpful for people that has an old but active blog. Especially, the one that accept or used to allow guest blogging. You will never know when those old links become bad and attack your site.
Before we get started, head over to LinkPatrolWP site and purchase the plugin for just $50 (this is a one-time fee) or see the live demo. Once you have it, install it on your WordPress blog and go to Scanner and start scanning for external links. This process depends on how many posts you have published, but it usually takes a few seconds. An overall report will appear.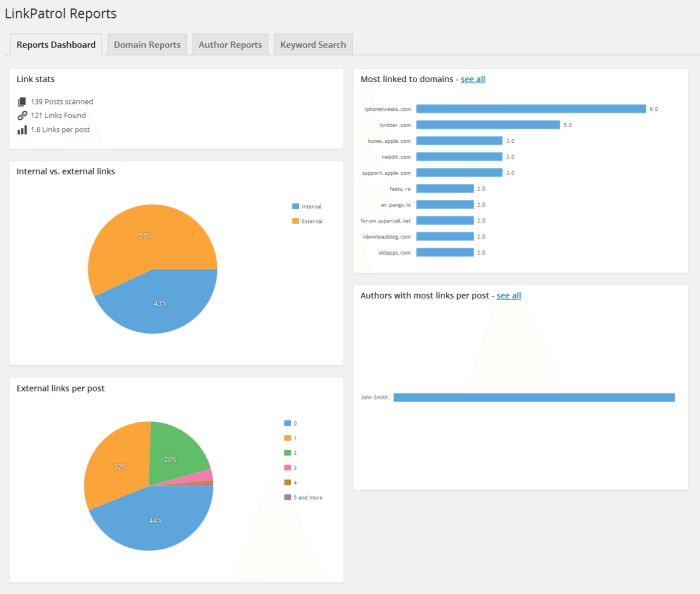 On the Reports Dashboard, it will summarize most information that you need to know including some colorful charts for easier reading.
Link stats
Internal vs. external links
External links per post
Most linked to domains
Authors with most links per post
To have a better understanding about each category, let's go to Domain Reports tab first. You will see whole list of all the domains that your website is linking to. Carefully click on each one and see if they are still alive and still contain quality contents that could benefit your readers. If so, there isn't anything you should do. However, in case of any bad links available the best way to treat them is using the Strip option in LinkPatrol. You can do so by checking the strip box for that domain.
Jump over to the Author Reports tab. As I was saying, LinkPatrol could be very useful for blog that has a lot of guest bloggers and it get worse when their domains are parked or being redirect to some random pages. Google doesn't like it when you redirect it to somewhere else that has nothing to do with the contents on your site. You may want to get rid of those links by clicking on Nofollow or Strip.

The last tab is called Keyword Search, this one is optional. I usually ignore it unless I personally know a links' anchor text.
LinkPatrol vs Broken Link Checker
A lot of people attempt to compare these two plugins even though they has no idea that both work differently. You use LinkPatrol to analyze external links and the other one to monitor broken links from posts and comments. But if you compare their performances then LinkPatrol will win because it's fast and only use a little of your database. According to the team that developed this plugin, it  took them about 20 seconds to scan the entire website with over 16K+ posts.
Final Thoughts
Are you thinking about getting the plugin? Think again! LinkPatrol WP was designed for bloggers that has been affected by Google algorithm updates (Panda, Penguin, etc), ones with many guest posting authors, and blog owner that has over hundred of posts on their site. I would not recommend this to beginners. If you want to have complete control over outbound links, then buy LinkPatrol today. I hope you like this article and stay tune for our upcoming giveaway. Don't forget to share it.