My experience with StudioPress's Genesis Framework wasn't really that worth it until one of my site got about 300 visitors when the day before that it only received 100-200 visits. I started to wonder why this happened by looking for new Google Updates. Unfortunately, I didn't find any at that time but I found a post by Yoast about how some themes can hurt your SEO. That got me worry because I didn't really check or go through some process to see if my theme, which is a Genesis child theme at that time, could bring my blog down or not. With a little help from few friends I finally solved it and here I'm explaining to you why the Genesis Framework is super search engines friendly.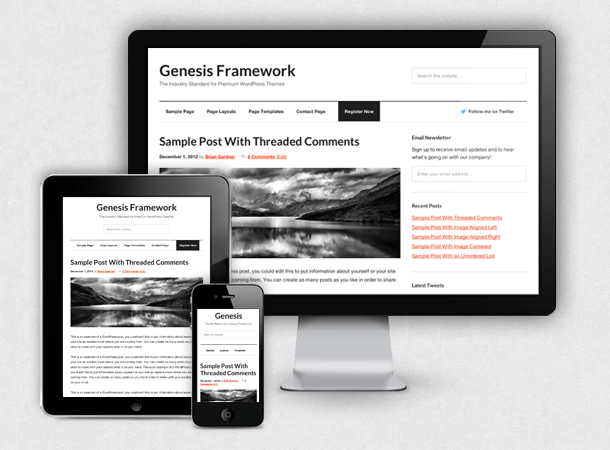 Standard On-page requirements are included in Genesis
All important factors in SEO On-page such as heading tags, meta tags, robots attributes (index,follow, etc), rel=canonical, and many others are available in this framework. If you're a beginner, you won't have to be worry about installing SEO plugins because Genesis also have its own. Furthermore, the heading tags are distributed according to Google's standard, sidebar title are H3 and posts title are H1, etc.

It is a fast loading theme framework
We can't have a discussion or a debate on this topic. Not just Genesis but also Thesis are built for speed. I have tested them on Google Pagespeed & Pingdom's tool and they load like lighting.
Clean HTML/CSS code
StudioPress has designed Genesis Framework with clean HTML and CSS codes to meet the standards specified by W3C. This means that the search engine bots will easily understand the content of the website to know which part is more important, and can also have good support on different web browsers.
Clear & Easy to understand HTML structures
The coding structures of Genesis framework are arranged in order. For example, the title go first > then the robot rules > meta description > meta keywords > and so forth in accordance to the way that it should be.
Layouts and templates are customizable
Your website's layout is also quite an important aspect in SEO. The default layout of Genesis will be arranged in the style of blog rather than magazine or any other complicated forms. This can help Google spiders to easily index the contents and readers can see what's new on your site. If you don't like something then delete it in functions.php template or stylesheet.

Do you think your site can rank better if you use Gensis Framework?
I strongly believe that a theme can help and hurt your site appearance on Google and many other popular search engines, do you?. Before you choose one make sure to carefully review it first.
Good luck!