Often you visit a website and at the end of the article there is a list of related posts or sometimes you can already see it right on top of the page & also the bottom too. Its purpose is to help you explore more contents on that website instead of leaving after reading just the first post. See! that could be a great strategy everyone should use right now if you haven't done so. But that's not it, we still have more for you. And if you are all set to boom the traffic at your website, without having headaches while putting codes for WordPress related posts, then you are at perfect place to know about WordPress related posts plugins. Whose sole part is to keep visitors engaged in reading the stuff at your website.
Why do we need a related posts plugin for WordPress
Having related posts does not only help readers to find the content relevant to the article they are reading, but it also helps us improve internal links, decrease bounce rate, and have more page views. You'll see the number of views increase significantly as to display related posts on the blog. However, if you have it show up in the normal way, then it won't increase much. Therefore you should be adding an eye-catching thumbnail to it, and in this article, I would like to briefly introduce to you a few functional and most-liked WordPress related posts plugins! 
Top 3 Related Posts plugins you should use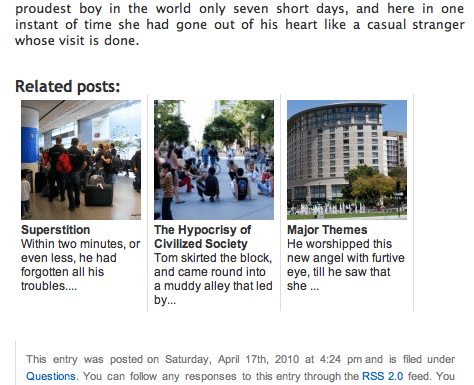 Related Posts Thumbnails is one of the best and free related posts plugin for WordPress websites and blogs that will help you add and display related posts in your blog posts. You can customize the thumbnail size and reduced the number of characters to display, quite easy to use, and it has a similar style as to Mashable.

If you want more freedom to customize your related posts, you can choose unrelated Content, it'll give you 14 different types of style from horizontal to vertical. However, its main disadvantage is the plugin uses an external API, which means depending on the search algorithm on all relevant its hosting server and not yours, so it will take sometime before things start to display.

Just because I didn't mention this plugin first doesn't mean I forget about it. YARPP is currently the top WordPress related posts with over 2M downloads. Just like the other, it supports thumbnail and also textual display and really easy to decorate. What makes this Yet Another Related Posts plugin so love and adored for WordPress related posts is it's functionalities without complex coding. And one more thing it is free so it does not add any additional cost to your budgets while building your websites.
Hopefully, throughout the whole article, you understand why it's important to have related posts on your blog. If you are not happy about the list above, please check out WordPress Widgets on Codecanyon.