Black Friday Sale - Get

40%

Off on all LoginPress Pro Plans - Use Coupon Code
Before I begin one of the positive note of my life and company's achievement at y combinator startup school, there must be quotes that why it was necessary for us.
Like many other startup schools, Y Combinator's Startup School is designed as a free online platform for newly launched businesses and people having entreprenerd ideas to excel in the business world. Globally it is recognized for accelerating the topnotch business to launch including Reddit and Dropbox  etc.
Y Combinator's Startup School For WPBrigade
I'm very happy to announce that We have been graduated from Y Combinator Startup School 2017 batch. It is a big moment for us, no doubt. We focused on our product LoginPress during the startup school.
LoginPress got a tremendous growth, our free version boosted with 25k downloads, featured at Product Hunt, started generating revenue from our Paid version. We have planned for more features coming soon. I bet LoginPress is going to be big – Stay tuned.
There were 13,321 companies that applied to YCombinators 10-week program of one-to-one mentorship from past YC Startup founders, virtual office hours with group fellow students and an amazing online lecture series with the co-founders of Facebook, Quora, WhatsApp, Khosla Ventures, YCombinator and much more. Lectures were given at Stanford for their course CS183F.
WPBrigade is the only WordPress development agency whose founders were part of this startup Founders track.
1,584  companies have completed the track by submitting weekly progress reports and attending group office hours. 797 out of them got their certificates by submitting a  video for the demo day. Check out our demo.
We had the biggest demo day ever online, anyone can watch the demo videos online. We had the startups from Augmented Reality, VR, biotech, developer tools, b2b and much more.
A glimpse of Y Combinator's Startup School Certificate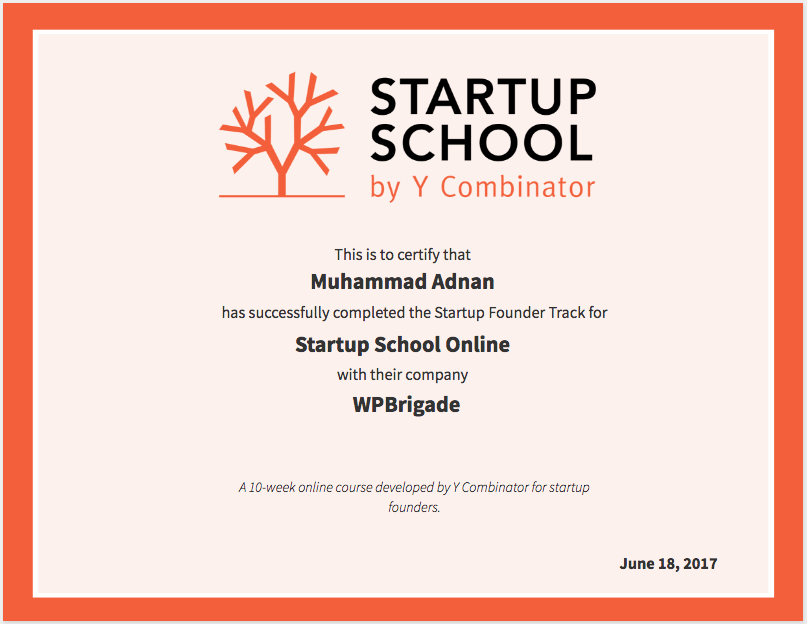 Our slide deck for demo day.
More information can be found from Techcrunch news 1500+ startups graduate Y Combinator's first online Startup School